Spirit & Crystal Whisky Decanters
If you love your whisky, you'll probably agree with us that the only way to serve a fine malt is from a lovely crystal whisky decanter. The clarity and sparkle that you only get with traditional cut lead crystal whiskey decanters such as our Buckingham Whisky Decanter really enhance the rich colour of the golden nectar.
Our carefully selected spirit and whiskey decanters are made from the best quality glass and crystal spirit decanter manufacturers in the UK and Europe. Many of our whisky decanters are handmade and cut with intricate designs by time-served craftsmen using traditional glass cutting techniques.
Decanters always make a great gift at Christmas time, particularly when they are beautifully packed in our luxury satin-lined presentation gift boxes. Our fantastic crystal decanter and whiskey glass gift set are a fantastic gift choice which will be treasured if you are lucky enough to receive one. Most whiskey decanters in our selection can be engraved. Our Severn Crystal Whisky Decanter is a lovely shape and is supplied in a satin presentation box. The Personalised Crystal Whiskey Decanter Sets are very desirable, a lovely personal gift for Christmas, and they also make an ideal choice of retirement, long service or achievement award. We also have a fine selection of crystal whisky glasses to match the decanter sets.
With 12 years experience of supplying whiskey decanters for gifts and for business award presentations, backed up with excellent customer service, Forever Crystal is a name you can trust. We also offer a gift wrapping service so that your whisky decanter gift can be delivered directly to the recipient within 24 hours ... not many companies can make that promise!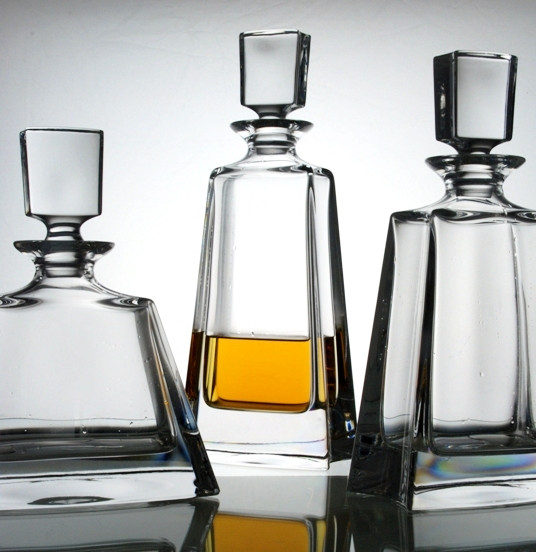 We can't find products matching the selection.
Compare Products
You have no items to compare.
My Wish List
Last Added Items
You have no items in your wish list.